Sydney Radio Control Society Inc., (SRCS) is one of a number of radio control aircraft clubs in the Sydney area. It operates near Wisemans Ferry just north of Sydney.
Potential members and visitors are very welcome, particularly on weekends when, weather permitting, club members are usually flying. Visitors are, of course, not allowed to fly if club members are not present.
As we share the land with farm animals there is a locked gate between the road and our site. All members have keys so on your first visit you will have a 300 metre walk from this gate to the flying area. Alternatively you can wait until a member arrives or is leaving to open the gate and allow your vehicle in. The best way to avoid the walk or the wait is to contact the Secretary, Corinne Pellatt on 0412 718 510 or the President, Mike on (02) 9872-6469, either to make a definite arrangement or just find out more about the Club.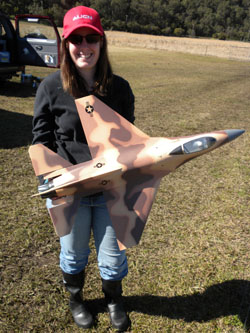 Anyone thinking about taking up radio control model flying is strongly advised to join a club. This will give you access to a site where you know you can legally fly models, and be covered by insurance for third party claims of up to $20 million. These are important to protect you, However the major advantage of a club is access to experienced fliers who can give you advice and help with getting started. In most cases your local model shop will give you good advice on suitable trainer aircraft and equipment. Even so, there is nothing like coming down and looking at similar aircraft actually flying. By talking to other beginners you can find out how they got on building and how they are progressing with starting to fly. You can also get advice whilst you are building your first aircraft. Sadly not all instruction leaflets cover everything a novice needs to know, and there are many tips that will either save you time, or contribute to a better built model. The easiest way to find out about these is by talking to experienced modellers.
SRCS, have qualified instructors who, whilst there are no guarantees, will give you a very good chance of learning to fly with only minor, repairable damage to your aircraft.
When you bring your completed aircraft to the field, the first thing an instructor will do is to check the aircraft very thoroughly. Whilst it may be disappointing to have to change things, there is no way an aircraft will be allowed to takeoff unless the instructor is entirely happy with the airworthiness of it. With your permission he will then give it a test flight. Usually only minor trim changes are needed, and then your own flight training will start. Initially this will be at sufficiently high altitude so that any mistakes you make can be recovered by the instructor. After this your progress will depend on how frequently you fly, and how well you adapt to it. Once you can takeoff and land dependably, and safely, then you will be allowed to fly by yourself. After that it is up to you, and then the sky is the limit.