Who's Online
We have 120 guests and no members online
Messages
John Howard - Fri 2 Jun - 09:47
Heather & I will be there tomorrow 3rd.
Kahl Eckersly - Fri 2 Jun - 08:38
I'll be there tomorrow
Colin Bruce - Thu 27 Apr - 07:58
Unable to make EoM for April.Will be up Mudgee way.Cheers. ColB.
Stewart Clarke - Fri 27 Jan - 17:43
I will be there tomorrow.
Norm Bantin - Fri 27 Jan - 06:47
I will not be there Saturday, have fun
Mike Close - Fri 30 Dec - 13:43
From the feedback, I have not found any club members who are planning to go apart from myself. Under these circumstances I will not be bringing any general BBQ food.
Stewart Clarke - Thu 29 Dec - 14:35
Can't make it, in QLD. Stew
Mike Close - Thu 29 Dec - 13:54
No one is down for this Saturday's BBQ. I am quite happy to do it but is anyone going? Please put a reply if you are and let anyone might go to look at this as well
Norm Bantin - Fri 25 Nov - 11:17
I can't make for the EOM BBQ, Stew has offered to arrange the food
Norm Bantin - Thu 24 Nov - 12:26
Who's going to the EOM BBQ I am doing the BBQ so I need to know nos
Please log in to post a message
Articles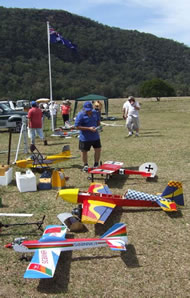 Sydney Radio Control Society is a flying club located in Wisemans Ferry.
The Club caters for modellers with power planes, helicopters, gliders & electric models.
Members can fly at the Club field 7 days a week, and avail themselves of facilities including barbeques, toilets, a shade area as well as seats and a regularly mown landing strip.
A separate hovering area is provided for helicopters.
SRCS is affiliated with Miniature Aero Sports of NSW Incorporated
and has a number of qualified instructors on hand who can provide basic tuition
on aircraft & helicopter models.
Visitors are welcome.