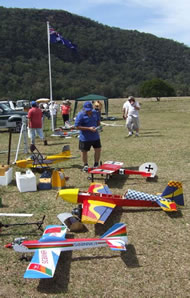 Sydney Radio Control Society is a flying club located in Wisemans Ferry.
The Club caters for modellers with power planes, helicopters, gliders & electric models.
Members can fly at the Club field 7 days a week, and avail themselves of facilities including barbeques, toilets, a shade area as well as seats and a regularly mown landing strip.
A separate hovering area is provided for helicopters.
SRCS is affiliated with Miniature Aero Sports of NSW Incorporated
and has a number of qualified instructors on hand who can provide basic tuition
on aircraft & helicopter models.
Visitors are welcome.